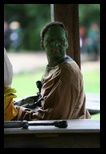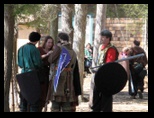 The very first thing I have to say before I say anything else was how damned AWESOME the forge module was on Saturday with the dwarves and Polarian and the elementals. Holy crap - whoever helped build that thing and set it all up is so talented!! It really looked like real lava - I was so tempted to touch it and see if it was actually warm. And the earth elemental costume guarding the entrance? Just wow. That costume was so realistic - I hope you guys get to use it again. That whole module and ALL the characters inside it... by far the best I've ever seen and experienced. Thank you so much for letting me be involved!
Plot writers: My gosh, you must have been busy over the winter! Almost everyone in my core group of friends had something specific happen for their character, and it was great. The mere fact that you are reading and re-reading character histories, and filling them in, bringing details out in game, is just outstanding. Bravo!
I had a blast! You plot writers must have been having a lot of fun during the winter!
This place is a well-oiled machine. All seemingly chaotic parts moving in random directions, but getting the jobs done. (Insert awed look here)
...the special effects that accompanied the Fiend attack Satyrsday night were terrific. The sight of fiends coming through that thick smoke was just awesome. Really scary. I thought that the different fiends looked great: four arms, wings, and so many different faces. It was really great. The Baarteyu (sp?) was especially terrifying
Spring 2014
March 28th - March 30th - Weekend Event - PLACEHOLDER - NOT ACTUAL DATE
FREE Membership
Access to "Members Only" Message Boards
Access to "Members Only" Photo Galleries
Online Character Updating
Registration via Credit Card & PayPal
and Much More!