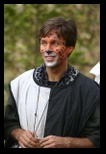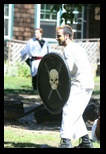 Well, In the first night of last moon when all citizens of freehold had to gather and goto blackhold, the battle the ensued was NUTS!!! I had an idea that the event would be well organized and planned, but not like this.
PHOENIX!!!! O-M-G. What a fun thing that was!! Amber looked awesome and did an awesome job with it. I love the story line.
The encounter with the Banshee on Saturday Night was the scariest moment my character has ever seen. Hearing the dreaded voice get louder and louder as this glowing, screaming thing is literally chasing you sent chills down my spine. Both IG and OOG I was scared. That's what I look for in a LARP! Kudos to whoever created that character.
I want to thank each and everyone who was at the game for the Absolute best event I have ever had at any larp ever.
...This is the moment in time when the realization that I might be in real trouble came creeping in. (in reality I was shaking the whole time, the rational part of your brain keeps screaming, trying to bring you back to your senses...
Fall 2013
August 23rd - August 25th - Weekend Event
September 13th - September 15th - Weekend Event

FREE Membership
Access to "Members Only" Message Boards
Access to "Members Only" Photo Galleries
Online Character Updating
Registration via Credit Card & PayPal
and Much More!