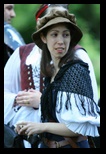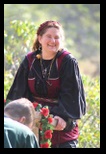 This was my first LARP experience, and I am deffinitly hooked. : ) I was amazed by the quality of acting...All the cast was awesome. Everyone did such a great job...Thanks for an incredible weekend! I can't wait for the next event!
...The final thing is to offer you serious congratulations. I've recently learned (yet again) some in-game information which I had missed partly because it was more subtle and intricate than I typically give gamemasters/plotmasters credit for. It's not the first time this has happened in MJ. I'm really impressed with the quality of MJ Plot and its behind-the-scenes intricacy and coherence. Now that I'm coming to accept that it is so, sleuthing in-game becomes much more rewarding! Few things are more of a letdown than following subtle clues to naught, because Plot hadn't thought the consequences of their plans through; conversely, few things are as fun as playing within a genuinely cogent and complex plotline. So thanks for everything! I'm more and more impressed and have become completely addicted...
Everything about the event was amazing.. Even though it was freezing cold and everyone was kind of bummed because of that.. Everyone helped in making it a wonderful experience!!
they did an AMAZING job! they made sure that the new players had plots that we could handle, as well as making sure we had alot of fun roleplay at the same time. when they knew they were fighting new players they made sure to make their in-game and real world skills match our own so we werent romped into the dirt, but still had a good challenge.
From singing orcs to genies to wights and the faceless four... (Not to mention the unnerving Chukani followers) It was nonstop action. I was involved with so much plot... Thanks for having some great stuff going on!
Fall 2016
August 26th - November 6th - Fall Season Pass
Spring 2016
March 18th - May 22nd - Spring Season Pass
May 20th - May 22nd - Weekend Event
Fall 2016
August 26th - August 28th - Weekend Event
September 16th - September 18th - Weekend Event
November 4th - November 6th - Weekend Event

FREE Membership
Access to "Members Only" Message Boards
Access to "Members Only" Photo Galleries
Online Character Updating
Registration via Credit Card & PayPal
and Much More!