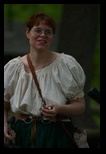 ..amazing plot, amazing encounters, amazing event.
I loved the fact that the owners were all present, motivated, and enthusiastically participating in the game...
I just want to say great job to all the cast and players of the event! I had tons of fun and ... It was such a lively, friendly and encouraging environment and I can't wait to go again!
My first event was such a wonderful experience. From the moment I arrived to help with setup until I left I kept meeting great people. I've played in a few LARP systems and have never felt more immersed.
Just on a roleplaying/psychological basis, this was the BEST MJ yet, hands down. [May 2003]
Spring 2015
March 27th - March 29th - Weekend Event
April 24th - April 26th - Weekend Event
May 15th - May 17th - Weekend Event
August 28th - August 30th - Weekend Event
September 18th - September 20th - Weekend Event
November 6th - November 8th - Weekend Event
FREE Membership
Access to "Members Only" Message Boards
Access to "Members Only" Photo Galleries
Online Character Updating
Registration via Credit Card & PayPal
and Much More!