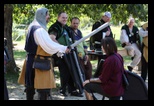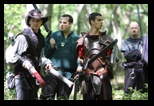 I had a blast! You plot writers must have been having a lot of fun during the winter!
This battle was intense and very fun. A battle which lasted an hour is unheard of! I loved it.
Before I start, I just want to say…WOW. Every time I think I have my plot figured out, you guys manage to blindside me once more. This weekend was so much fun, and I can't wait to see what happens in the future. Thanks for all your hard work!
My first LARPing experience with you was a blast and I had a wonderful time. Keep up the good work.
...the special effects that accompanied the Fiend attack Satyrsday night were terrific. The sight of fiends coming through that thick smoke was just awesome. Really scary. I thought that the different fiends looked great: four arms, wings, and so many different faces. It was really great. The Baarteyu (sp?) was especially terrifying
Season Passes 2014
September 12th - November 9th - Fall Season Pass
Fall 2014
September 12th - September 14th - Weekend Event
November 7th - November 9th - Weekend Event
FREE Membership
Access to "Members Only" Message Boards
Access to "Members Only" Photo Galleries
Online Character Updating
Registration via Credit Card & PayPal
and Much More!