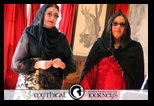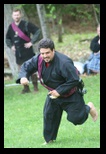 It felt so immersed into the world while playing the game. This was the largest, best rped game Ive been to. Walking around not even being sure who were pcs, npcs, but I figured out, it dident even matter, as everyone had a purpose to the town.
I loved the fact that the owners were all present, motivated, and enthusiastically participating in the game...
It gets said a lot after every event.But, THIS, WAS, THE BEST! event I have ever been to bar none.In this or any Larp I have ever been to or heard of.
AGH!! I've heard that going to MJ is addictive, but I never thought it would be like this!! I feel like I am on crack or something. When I am not on the website, I am thinking about the event and describing it to people (most of whom are sick of hearing about it). I just saw the pictures right now...and I want to go back more than ever!! The real world just seems so... well, mundane now! :c ] Thanks to everyone at this event for making it so awesome and for hooking me! I can't wait 'til the one day and then August!!
The most memorable part was leisurely sitting in the tavern, when all of a sudden.....that damn portal. All of a sudden - monsters everywhere. Way cool idea.
Fall 2016
August 26th - November 6th - Fall Season Pass
August 26th - August 28th - Weekend Event
September 16th - September 18th - Weekend Event
November 4th - November 6th - Weekend Event

FREE Membership
Access to "Members Only" Message Boards
Access to "Members Only" Photo Galleries
Online Character Updating
Registration via Credit Card & PayPal
and Much More!