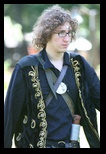 ...perhaps I am just going overboard with enthusiasm over what was the most enjoyable game experience I have ever had. It was like being in a fantasy comic book world that went and ran amok. Total chaos and surrealism. But fun.
I just wanted everyone to know that this was my first event and that I had the best time imaginable! Everyone made me feel welcome and was very helpful in getting me started on what I hope to be a long term hobby. Many players were quick to help and show me the ropes for my first time in Freehold, as well as the cast who did an incredible job keeping me busy and informed...
This was a fantastic event...so can really enjoy the game easier, or if I've finally learned how to play the game, or what, but each event keeps getting better and better.
WOW…that's it, wow!
I will start by saying that I love MJ. In my opinion it is without a doubt the best game out there right now. MJ events have been the best events I ever attended.
Season Passes 2014
September 12th - November 9th - Fall Season Pass
Fall 2014
November 7th - November 9th - Weekend Event
FREE Membership
Access to "Members Only" Message Boards
Access to "Members Only" Photo Galleries
Online Character Updating
Registration via Credit Card & PayPal
and Much More!