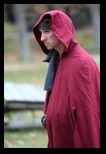 Usually I do not like to make such a blanket statement without pointing out specific people, but this past event was amazing. EVERYONE was role playing to the hilt and made my time in Freehold that much more enjoyable.
Plot writers: My gosh, you must have been busy over the winter! Almost everyone in my core group of friends had something specific happen for their character, and it was great. The mere fact that you are reading and re-reading character histories, and filling them in, bringing details out in game, is just outstanding. Bravo!
The depth and complexity of this game has not been better shown than the rising against the queen. To hint at the plots and sub plots going on, the prophecy and treaty, wow! I can't begin to imagine how ipressed the newies were, hell I was blown away and I knew about most of this already!
amazing event, i think the best ever...
The builder goblins were histerical. Their uses for kobolds were priceless. We even brought a kobold back for them, but they had already left. Kudos for their costuming...
Fall 2016
August 26th - November 6th - Fall Season Pass
November 4th - November 6th - Weekend Event
Spring 2017
March 17th - March 19th - Weekend Event
April 7th - April 9th - Weekend Event

FREE Membership
Access to "Members Only" Message Boards
Access to "Members Only" Photo Galleries
Online Character Updating
Registration via Credit Card & PayPal
and Much More!