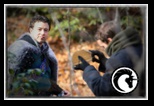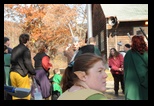 I had a lot of fun and I can't help but compare this to [another LARP] which I have played for about 9 years. I was amazed at the depth of detail, from the quality of cast costuming and makeup and weapons, to the little details of props in the Tavern, and actual people being there in the background as ambiance rather than just walking in to quickly find someone and then leaving just as quickly. I was very impressed with the dedication of the cast. That alone made this event stand out for me. Also, having cast out in the woods basically waiting to be found and interacted with was a huge change of pace. Good stuff.
Another success! i have been to games that have been just ok and i have been to games that kick butt and this was one that totally kicked butt!! the best court session i've ever been to!! how exciting and scarry, we didn't know what was going to happen and when it did, wow!
...I just have to say this was the best MJ event i have ever attended...
The skill in which they showed in playing their characters, enthralled newbie's and veterans alike. They were great [Regarding the spirits that haunted the inn]
The role-playing from everyone involved was intense.
Season Passes 2015
August 28th - November 8th - Fall Season Pass
Fall 2015
August 28th - August 30th - Weekend Event
September 18th - September 20th - Weekend Event
November 6th - November 8th - Weekend Event
FREE Membership
Access to "Members Only" Message Boards
Access to "Members Only" Photo Galleries
Online Character Updating
Registration via Credit Card & PayPal
and Much More!