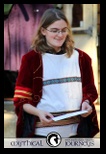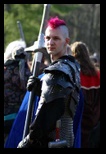 Everything about the event was amazing.. Even though it was freezing cold and everyone was kind of bummed because of that.. Everyone helped in making it a wonderful experience!!
The balance between RP and fighting is perfect, there's never a point where I feel I 'have' to fight or I'll have nothing else to do. There's plenty of both going on all the time, so players can choose how to spend their events.
It felt so immersed into the world while playing the game. This was the largest, best rped game Ive been to. Walking around not even being sure who were pcs, npcs, but I figured out, it dident even matter, as everyone had a purpose to the town.
my favorite part of the event was the Kobold caves it was nice to fight something that didn't kick my butt. In the end me and my four companions were all waylaid by the exact same kobold while climbing out the back door of the caves. It was one of the funniest thing to ever happen to me at MJ.
...I just have to say this was the best MJ event i have ever attended...
Fall 2016
August 26th - November 6th - Fall Season Pass
November 4th - November 6th - Weekend Event

FREE Membership
Access to "Members Only" Message Boards
Access to "Members Only" Photo Galleries
Online Character Updating
Registration via Credit Card & PayPal
and Much More!