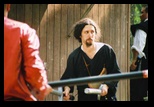 Standing there I was about 20 feet away from this being before I fled for my life. I don't think I have ever been that scared(or ran that fast)!!
The undead attack on Sat. was also very well handled. We must have killed over 100 undead. They just kept coming, it built a real feeling of hopelessness and desperation. Plus it helped me live out some of my Romero fantasies.
I give my first event with MJ an A+.
The event was absolutely fantastic! Truly, cast and players all worked very well I thought throughout the event. Truly remarkable work with respect to the cast, especially during the battle
What can I say I had a great time. Even in death I had a great time.
Season Passes 2014
September 12th - November 9th - Fall Season Pass
Fall 2014
November 7th - November 9th - Weekend Event
FREE Membership
Access to "Members Only" Message Boards
Access to "Members Only" Photo Galleries
Online Character Updating
Registration via Credit Card & PayPal
and Much More!