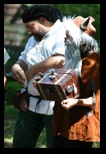 I have never felt so welcome into any sort of game. Anthony created a plot that specifically applied to my character's quest for knowledge. In the first five minutes I learned more about elementalism than I knew from reading the rule book and casting for three events. Anthony worked hard both to put the plot together despite the time preasure, and personally hooked our group of new players. Although it will be a while before I can come back to MJ, I plan on returning.
The fey are fun to play with. The Zephyr loves me most. And, most importantly, when people actually come together with a common purpose, they can accomplish amazing things, like destroying the God Slayer.
Before I start, I just want to say…WOW. Every time I think I have my plot figured out, you guys manage to blindside me once more. This weekend was so much fun, and I can't wait to see what happens in the future. Thanks for all your hard work!
I was a new cast member and I came with my wife. As soon as we walked through the door we were greeted by friendly faces and excited cast members. We immediately felt at home. The first night was a challenge because not only were we new but we were also a bit scared. Coming to MJ was definately stepping out of our comfort zones.... We had a blast. We did everything from terrorizing pumpkins as zombies, jumping out of closets dressed as bats, to going on a religious pilgrimage to seek knowledge of each religion. It was fun, safe, exciting, and challenging.
Just on a roleplaying/psychological basis, this was the BEST MJ yet, hands down. [May 2003]
Spring 2016
April 1st - April 3rd - Weekend Event - TENTATIVE DATE

FREE Membership
Access to "Members Only" Message Boards
Access to "Members Only" Photo Galleries
Online Character Updating
Registration via Credit Card & PayPal
and Much More!