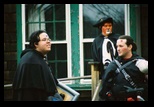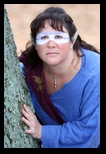 ...This was without a doubt the best adventure I had ever taken part in. I was convinced that you could never top last events vent crawl..., it seems that i was wrong, way wrong
I too would like to thank the staff of MJ for an incredible start to the year. This has been the best event I have attended in 9 years of larping! Bravo! Also I would personally like to thank the Cast! You have set a new standard of excellence in roleplay and physical endurance. Thanks for making the game SOOOO much fun
This was my first event ever, and I do have to say it was all that I expected and more. The way that everything is set up really makes you feel like you really are someone else fighting in a different world. It's amazing the adrenalin you can get from just a game!
...this event rocked regardless of the snow.
I do want to say that I was impressed with the management of the game and the cast... even though things were a mess, you guys kept everything moving (to various degrees of smoothness, yes, but it moved :) I was also *very* impressed and pleasantly surprised by the depth of everyone's devotion to the game and its workings... brownie points or no, problems or no, everyone I met (player AND cast) had a vested interest in making the game, and the weekend, as best it could. The MJ folk honestly care about their game and their fellow players, and I, as a newbie, am eternally grateful...
Season Passes 2015
August 28th - November 8th - Fall Season Pass
Fall 2015
August 28th - August 30th - Weekend Event
September 18th - September 20th - Weekend Event
November 6th - November 8th - Weekend Event
FREE Membership
Access to "Members Only" Message Boards
Access to "Members Only" Photo Galleries
Online Character Updating
Registration via Credit Card & PayPal
and Much More!