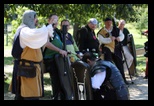 ...the cliffhanger ending to the weekend was very well done. But it's going to drive me crazy! I wonder how it will go down...
I would like to thank EVERYONE for such a wonderful weekend. It was my first LARP experiance and it was amazing. When I got home and I was walking around I kept on getting this nervous feeling and I realised that I was going through withdrawel. I did'nt have my sword to protect me. :) Special thanks to all those who came up to me and included me in what was going on. My quote for this week, spoken by unknown while they were passing by the newcomers on the first day. "Whatever the guards say, DONT pick up the soap.
I have never met such kinder people. This was only my second event and I have never felt so welcomed. Everyone I have met has been amazing and I can't wait to see you all again for Spring 1.
I would like to say this is going to be one of the most memorable games for MANY people not just myself.
This was my first time at MJ and my first time LARPing. I was very nervous at first but though the kindness of everyone around me I began to feel confident and by the end of the event I was able to really enjoy myself and I had such a blast!
Season Passes 2022
August 26th - October 16th - Fall Season Pass
Fall 2022
August 26th - August 28th - Weekend Event
September 16th - September 18th - Weekend Event
October 14th - October 16th - Weekend Event
FREE Membership
Access to "Members Only" Message Boards
Access to "Members Only" Photo Galleries
Online Character Updating
Registration via Credit Card & PayPal
and Much More!