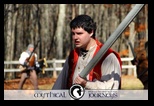 I was new this time and had a lot of fun. In the riddles and the fighting. I got to see many different kinds of bad guys.
THIS IS SO MUCH FUN! THANK YOU SO MUCH!!!!!!!
I had an absolute blast this event
The cast is doing such a great job. This has been the best season of MJ ever. Guys thank you so much.
I was a new cast member and I came with my wife. As soon as we walked through the door we were greeted by friendly faces and excited cast members. We immediately felt at home. The first night was a challenge because not only were we new but we were also a bit scared. Coming to MJ was definately stepping out of our comfort zones.... We had a blast. We did everything from terrorizing pumpkins as zombies, jumping out of closets dressed as bats, to going on a religious pilgrimage to seek knowledge of each religion. It was fun, safe, exciting, and challenging.
FREE Membership
Access to "Members Only" Message Boards
Access to "Members Only" Photo Galleries
Online Character Updating
Registration via Credit Card & PayPal
and Much More!