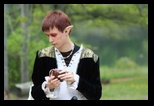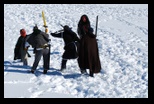 Good roleplaying. Since I left and came back; it's like someone dropped a roleplaying bomb up in here. It's all been taken to the next level. Ditto for costuming. Hah freakin' zah.
The attack on my cabin by wights was the most memorable. I've never been so honestly scared witless at an event. It was like a scripted movie! Good job all around!
Well this was my first MJ event, and I have to say I was VERY impressed with the organization, LACK of downtime, and finding out that after a 3 year break from LARP'ing I can still swing a sword and hold my own.
The Stilt Giant was really cool, it added another element to the game and shows MJ's dedication to provide extra cool monsters for the players to enjoy.
I felt that even as a brand new character, I and my companions were pretty effective in the battles that ensued all over the camp.
Season Passes 2019
August 23rd - October 20th - Fall Season Pass
Fall 2019
October 18th - October 20th - Weekend Event
Spring 2020
January 31st - February 2nd - Weekend Event - PLACE HOLDER EVENT- NOT AN ACTUAL DATE
FREE Membership
Access to "Members Only" Message Boards
Access to "Members Only" Photo Galleries
Online Character Updating
Registration via Credit Card & PayPal
and Much More!