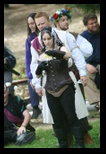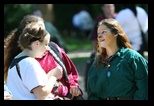 This event was a lot of fun. There was never a dull moment since i think the longest break there was between fights was about an hour at best. I've never been this tired before.
My first LARPing experience with you was a blast and I had a wonderful time. Keep up the good work.
I loved it [the event]. The goddess that was brought down and how the whole plot was handled was very exciting and full of twists right from the beginning.
The undead attack on Sat. was also very well handled. We must have killed over 100 undead. They just kept coming, it built a real feeling of hopelessness and desperation. Plus it helped me live out some of my Romero fantasies.
To have recieved that plot which was for all the Embrannas yet my small piece of it seemed tailored perfectly for me was amazing. It lets me know that the staff has noticed my effort. That the staff is thinking along the same line as I am. That somebody out there gets what I'm really doing. It's fantastic. It's why I larp. Not to gain power or items. Not to be the most powerful. It's for the journey. MJ has made it an amazing to me.
Fall 2020
October 23rd - October 25th - Weekend Event
FREE Membership
Access to "Members Only" Message Boards
Access to "Members Only" Photo Galleries
Online Character Updating
Registration via Credit Card & PayPal
and Much More!