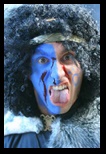 I had an amazing time this weekend, and I cannot wait until the next one. Just about everything went smoothly, all the fighting was very safe, and everyone seemed to be very welcoming to a new player.
This was my first event and I had a blast! First night and I found the thing I will hate at every event, Kobolds.
The whole event was a highlight for me. There was always something going on and something to do, even if you had to look for it a little bit. I loved meeting people in the tavern and interacting with them there, and I loved being in the midst of battle, healing when I could.
...I just gotta tell you (as if you haven't already heard it) You've got a great thing goin here. Yer events are something I look forward to from the time the previous one ends. It's just an overall good time. You've got good people runnin it, an AMAZING cast, plot coordination beyond belief, and all bases covered for everything anyone could ever want to do...
AWESOME job to everyone. This is by far one of my favorite events ever.
Season Passes 2019
August 23rd - October 20th - Fall Season Pass
Fall 2019
September 20th - September 22nd - Weekend Event
October 18th - October 20th - Weekend Event
FREE Membership
Access to "Members Only" Message Boards
Access to "Members Only" Photo Galleries
Online Character Updating
Registration via Credit Card & PayPal
and Much More!