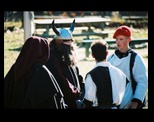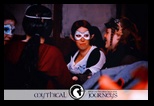 Everyone I interacted with was simply amazing his event. It is not easy to keep my constant attention and this event had my focus with every new person I met. From the Pasha, To Lord Jaeger, even a drunken troll...all did excellently.
I had an amazing time this weekend, and I cannot wait until the next one. Just about everything went smoothly, all the fighting was very safe, and everyone seemed to be very welcoming to a new player.
...I think this was the best game I'd ever been to...
I had a great weekend. It was non-stop roleplaying from the minute the whistle blew
I didn't expect such righteous indignation at the normal cycles of politics. The resulting exchange of diplomacy-speak was great.
Season Passes 2022
August 26th - October 16th - Fall Season Pass
Fall 2022
August 26th - August 28th - Weekend Event
September 16th - September 18th - Weekend Event
October 14th - October 16th - Weekend Event
FREE Membership
Access to "Members Only" Message Boards
Access to "Members Only" Photo Galleries
Online Character Updating
Registration via Credit Card & PayPal
and Much More!