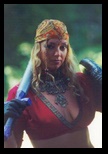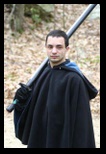 I would like to take this box to say how impressed I was by your perseverence in running a top-notch game despite dangerously low levels of cast members. Excellent job!
The even't was a great time and I had an amazing time role playing
This event was incredible. Though the weather was freezing and there was a ton of snow on the ground the nonstop action was amazing. The cast did a wonderful job! You guys are the best!!!
The NPCís are really terrific. I have to admit, when it comes to acting, I feel completely outclassed by them, and I have a theatre degree! I canít imagine how much work goes into all this. But I really appreciate it, and I am a devoted fan now. Thank you all!!!
Overall, a spectacular game. I look forward to the next one with bells on.
Spring 2019
March 22nd - March 24th - Weekend Event - PLACEHOLDER NOT ACTUAL DATE
FREE Membership
Access to "Members Only" Message Boards
Access to "Members Only" Photo Galleries
Online Character Updating
Registration via Credit Card & PayPal
and Much More!