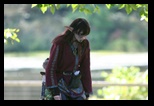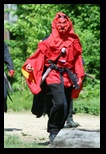 This was the second MJ event that I've attended and I had an even better time than before.
I enjoyed myself very much. The cryptography plot was by far my favorite part of the event. Not the cryptogram itself, but everything that surrounded it - the aquisition of the letters, the secret code phrases. When it was happening I thought to myself "This is what I want to be doing with my character." the shady deals, the secret conspiracies, the masonic handshakes, etc :)
Everything was really great. you all did a great job! Fantastic!
So much to do, so little time...the elemental war looms on our doorstep , and the Destroyer takes more from us everyday.
Wow ...havent seem that level of advanced role playing in a while. Glad i came along for the trip. I really enjoyed watching you guys go at each others throats. I learned a thing or two that i definitely will apply to my next character. thank you.
FREE Membership
Access to "Members Only" Message Boards
Access to "Members Only" Photo Galleries
Online Character Updating
Registration via Credit Card & PayPal
and Much More!