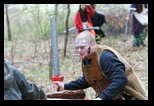 There were a ton of you [Cast] this event, and I can imagine that dealing with a massive number of players was tough, but hot damn you guys rocked. Like the battle with the Queen soldiers on Sunday, now that was some awesome stuff...
I have never seen freakier looking zombies than the ones at this event. The way you all moved in that unnatural way sent a chill down my spine.
MJ staffers are always thinking and that's what makes the game so fun and always a challenge.
...this was my first adventure in the town of Freehold. Even though this was my first, I was greatly impressed with the depth of everything that was done for this. Though there is one prob., if it is one, I'm now addicted to Mythical Journeys. Every one there was great, the veteran players were great, the missions were excellent, and I found my self sore, but happy. The staff did a GREAT job with everything. The ladys at the Inn did a great job with what they did, thanks guys!!! I could say more, but I would be rambaling, so, I will cut this short. Thanks to all how had built this...
An absolutely great game, awesome fighting, lots of tremendous RP experiences, the little module was a blast. One of the best MJ weekends Iíve ever had...
Season Passes 2021
August 27th - October 17th - Fall Season Pass
March 18th - May 15th - Spring Season Pass
Fall 2021
October 15th - October 17th - Weekend Event
Spring 2022
March 18th - March 20th - Weekend Event
April 8th - April 10th - Weekend Event
May 13th - May 15th - Weekend Event
FREE Membership
Access to "Members Only" Message Boards
Access to "Members Only" Photo Galleries
Online Character Updating
Registration via Credit Card & PayPal
and Much More!