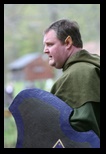 Let me start of by saying I had more fun setting up for this event than I ever had playing at another LARP. Everyone was so nice, informative and funny. From the start of the event Friday night, I was totally immersed into the world, everything seemed so real, from the walk in the woods with Master Lyle to the bandit attacks.
It was my first time at any LARP event and I was wondering if this was really my thing. I stayed and helped play cast. I had the greatest time! I loved playing a monster, theif, the second human to win the challenge, the Void and I could go on and on. I will always be there to terrorize the players. It was excellent!!!!!
...I found many other things that helped me have such a great time, I owe that to the planning of the management and the dedication of the cast, as well as the great role-playing of the players.
I thought the game was well run, efficient, and the attention to detail was great!
...I just gotta tell you (as if you haven't already heard it) You've got a great thing goin here. Yer events are something I look forward to from the time the previous one ends. It's just an overall good time. You've got good people runnin it, an AMAZING cast, plot coordination beyond belief, and all bases covered for everything anyone could ever want to do...
Season Passes 2019
August 23rd - October 20th - Fall Season Pass
Fall 2019
October 18th - October 20th - Weekend Event
Spring 2020
January 31st - February 2nd - Weekend Event - PLACE HOLDER EVENT- NOT AN ACTUAL DATE
FREE Membership
Access to "Members Only" Message Boards
Access to "Members Only" Photo Galleries
Online Character Updating
Registration via Credit Card & PayPal
and Much More!