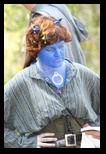 So much to do, so little time...the elemental war looms on our doorstep , and the Destroyer takes more from us everyday.
After dinner we went over to collect some Drider eggs with some treasure hunters and a large portion of the Militia. At least, that was the plan, anyway. What we found instead was the BOACONDA. I'm going to say this and I don't say this lightly - BEST THING I'VE SEEN AT A LARP, EVER. I've been to quite a few LARPs and this was just absolutely amazing. You guys really outdid yourself here.
...once I hit Saturday night it was nonstop fun and now I'm aching at the thought of the long winter wait for March.
After a Mythical Journeys event I am usually so brain-numb from the number of sensations and amount of information that I was bombarded with that I have to think over my experiences at the event, to re-live them in my mind...
...This was without a doubt the best adventure I had ever taken part in. I was convinced that you could never top last events vent crawl..., it seems that i was wrong, way wrong
Season Passes 2019
August 23rd - October 20th - Fall Season Pass
Fall 2019
September 20th - September 22nd - Weekend Event
October 18th - October 20th - Weekend Event
FREE Membership
Access to "Members Only" Message Boards
Access to "Members Only" Photo Galleries
Online Character Updating
Registration via Credit Card & PayPal
and Much More!