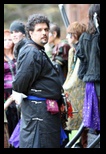 Overall I had a good event, and that was because of some absolutely awesome roleplaying, by cast and players alike. The one thing I can say about MJ is that you have the most immersive atmosphere I have ever experienced, because the standard of roleplaying is much higher for cast and player. This creates a consistant "in-game" atmosphere.
I had a lot of fun and I can't help but compare this to [another LARP] which I have played for about 9 years. I was amazed at the depth of detail, from the quality of cast costuming and makeup and weapons, to the little details of props in the Tavern, and actual people being there in the background as ambiance rather than just walking in to quickly find someone and then leaving just as quickly. I was very impressed with the dedication of the cast. That alone made this event stand out for me. Also, having cast out in the woods basically waiting to be found and interacted with was a huge change of pace. Good stuff.
THIS WEEKEND HAS GOT TO BE THE COOLEST OF MY MJ EXISTANCE. THE DALEANITE PLOT WAS SO FREAKIN AWESOME...
The bush monster was just cool. he scared the hell out of me the first time i ran into him scuttling on the trail and i was by myself...
I found myself immersed in a world where my actions have consequence and it would seem that I have a few things to answer for.
Spring 2019
March 22nd - March 24th - Weekend Event - PLACEHOLDER NOT ACTUAL DATE
FREE Membership
Access to "Members Only" Message Boards
Access to "Members Only" Photo Galleries
Online Character Updating
Registration via Credit Card & PayPal
and Much More!