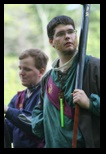 The Kobolds in the Module- that module was great, the tunnels where amazing, and the screaming Kobolds just topped it all off
The yeti costumes were GREAT and the timing of there appearance was good with the snow everywhere
The role-playing from everyone involved was intense.
...the props in general were really well made and beleiveable, ive never roleplayed before, and mythical journeys made it really easy, interesting, and fun.
On Saturday night the hoard of undead let out a groan all at once with a chorus of BRAINS. It sent chills down my back. Good job cast.
Fall 2020
August 28th - August 30th - Weekend Event
September 18th - September 20th - Weekend Event
October 23rd - October 25th - Weekend Event
FREE Membership
Access to "Members Only" Message Boards
Access to "Members Only" Photo Galleries
Online Character Updating
Registration via Credit Card & PayPal
and Much More!