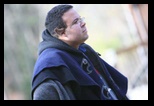 I do want to say that I was impressed with the management of the game and the cast... even though things were a mess, you guys kept everything moving (to various degrees of smoothness, yes, but it moved :) I was also *very* impressed and pleasantly surprised by the depth of everyone's devotion to the game and its workings... brownie points or no, problems or no, everyone I met (player AND cast) had a vested interest in making the game, and the weekend, as best it could. The MJ folk honestly care about their game and their fellow players, and I, as a newbie, am eternally grateful...
At the start of the event was, upon reflection, one of the more intense battles I think I have ever been involved in at a LARP
Highlights? For me finding out all there was to DO! Consider that I paid real world money to sit... in the freezing rain... in a cloak standing guard over some arguing clerics... and I loved it!
Overall I had a fabulous time, once again. This was only my third event, but I am enjoying MJ so much! I am happy with the interactions I have been having with the players and really seeing who gets into their characters and plays them well.
Great event all. I am glad to come back to the best LARP out there.
Season Passes 2018
August 24th - November 4th - Fall Season Pass
Special 2018
October 12th - November 4th - Fall Season Pass - 2 event pass for players with a "pushed" event.
Fall 2018
August 24th - August 26th - Weekend Event
October 12th - October 14th - Weekend Event
November 2nd - November 4th - Weekend Event
FREE Membership
Access to "Members Only" Message Boards
Access to "Members Only" Photo Galleries
Online Character Updating
Registration via Credit Card & PayPal
and Much More!