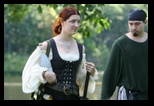 All in all a great first event for me.. I would like to thank you for the wonderful time I had.
Kudos on the terror factor...
The event was so great, I've never seen anything put together so well. The combat was great...
I would like to take this box to say how impressed I was by your perseverence in running a top-notch game despite dangerously low levels of cast members. Excellent job!
To an amatuer Larpist, the event was anything and everything but boring
Fall 2023
August 25th - August 27th - Weekend Event
FREE Membership
Access to "Members Only" Message Boards
Access to "Members Only" Photo Galleries
Online Character Updating
Registration via Credit Card & PayPal
and Much More!