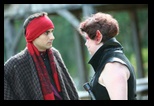 The tavern was incredible, I could not believe how great it looked. I was really able to stay IG, and the tavern wenches were classic...
The overall wide scoping plot of the weekend was well thought out, planned and executed. If there was a glitch, I didn't catch it with my XRay Plot glasses.
Overall I will say it [The Event] rates a 10 out of 10 due to the planning and dedication of the cast and owners. Everything was in place and ready to go once we checked in.
I would like to take this box to say how impressed I was by your perseverence in running a top-notch game despite dangerously low levels of cast members. Excellent job!
I had an amazing time this weekend, and I cannot wait until the next one. Just about everything went smoothly, all the fighting was very safe, and everyone seemed to be very welcoming to a new player.
Fall 2020
October 23rd - October 25th - Weekend Event
FREE Membership
Access to "Members Only" Message Boards
Access to "Members Only" Photo Galleries
Online Character Updating
Registration via Credit Card & PayPal
and Much More!