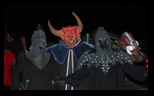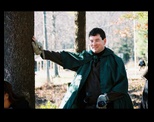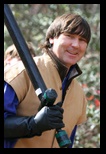 I had a total blast at the event this weekend. I met some awsome people there and had some awsome adventures and jouneys.
another quality event BRAVO to the cast
Wow...that's all I have to say is Wow. Since I can't say anything else...I'll just say wow.
Our party grew by two, one an experienced LARPer, but a first time MJ player, the other only having had a few previous experiences with LARPs, all of them bad. Seeing the looks on their faces over the course of the weekend as they experienced what makes MJ such a great game was really great to see. It made me think about how my own jaw must have been on the ground at my first event. I enjoyed seeing the game through their eyes.
I also want to take this time to thank every cast member that I have ever encountered or talked with even the ones I never see that have had a hand in my death, life, or other plot that has given me the best 3-4 years at MJ ever who ever has influences this character. With out all of you I would not have had as much fun or be the person I am today
Season Passes 2017
August 25th - November 5th - Fall Season Pass
Fall 2017
August 25th - August 27th - Weekend Event
September 15th - September 17th - Weekend Event
November 3rd - November 5th - Weekend Event
Spring 2018
March 16th - March 18th - Weekend Event
FREE Membership
Access to "Members Only" Message Boards
Access to "Members Only" Photo Galleries
Online Character Updating
Registration via Credit Card & PayPal
and Much More!