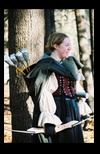 We hid really, really far into the woods, and didn't come back until game ended. I have never been so scared at MJ before, with the exception of November, when all the gates opened up and God-knows-what came boiling out of the smoke, but that's pretty damn hard to top.
WOW!!! Another great event. Thank you for creating such a ripe venue for entertainment opportunity!!!
Standing there I was about 20 feet away from this being before I fled for my life. I don't think I have ever been that scared(or ran that fast)!!
MJ is awesome, and that's your fault.
The atmosphere was just great by the constant flow of cast. It takes alot of energy to just keep coming back out again and again and again........ It was great and the battles really seemed like a whole army of crazy cultists.
Season Passes 2019
August 23rd - October 20th - Fall Season Pass
Fall 2019
August 23rd - August 25th - Weekend Event
September 20th - September 22nd - Weekend Event
October 18th - October 20th - Weekend Event
FREE Membership
Access to "Members Only" Message Boards
Access to "Members Only" Photo Galleries
Online Character Updating
Registration via Credit Card & PayPal
and Much More!