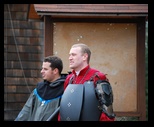 So many people, such wonderful roleplaying. These are the moments that every veteran roleplayer hopes they will experience..
This was a fantastic event...so can really enjoy the game easier, or if I've finally learned how to play the game, or what, but each event keeps getting better and better.
I think it is very indicative of the depth of role-playing and the complexity of the society and economy in MJ that someone like me who doesn't fight, doesn't explore, and doesn't adventure had virtually no free time at all on Saturday until well after nightfall.
EXCELLENT EVENT! Even with the rain it was very fun. Excellent job.
I was very impressed by the courteous and friendly welcome I received from everyone in the game. From the moment I arrived before game began people were asking how I heard about the game and offering advice. Once I was in game, I did not see anything like the wall which veteran players in other games often build up to exclude new players from their circle -- I was welcomed into discussions, meetings, and other happenings throughout the game. You made the game a blast.
Season Passes 2022
August 26th - October 16th - Fall Season Pass
Fall 2022
August 26th - August 28th - Weekend Event
September 16th - September 18th - Weekend Event
October 14th - October 16th - Weekend Event
FREE Membership
Access to "Members Only" Message Boards
Access to "Members Only" Photo Galleries
Online Character Updating
Registration via Credit Card & PayPal
and Much More!