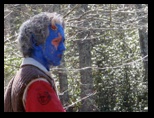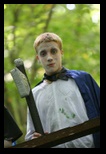 All right, this has been the best event that I have been to yet! BRAVO! You guys really out do your selves and for that I thank you all.
... I have to say that this was by far, the most fun event I have been to as of yet.
That event and plot was enough to make every moment I have been involved with MJ worth it. Thank you all so very much.
I really enjoyed the entertainment at the Tavern and the surprise attack from the "Otherworld" through the portals.
Had a great time. Good to be back. The game as always was awsome. One of the better things I like is that no matter how long I am away I'm always relavent to some plot. It's like going home. The newer cast members made me feel welcome. It's a great feeling to be apart of something so much that people who have never met you already have respect for you. I was good to see my friends.
FREE Membership
Access to "Members Only" Message Boards
Access to "Members Only" Photo Galleries
Online Character Updating
Registration via Credit Card & PayPal
and Much More!