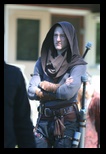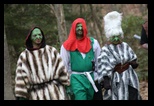 Mythical Journeys has now become the ideal against which all of my previous LARPing experiences have been measured. I have played a number of games including many years of [Larp Game] , a [Larp Game] event and a number of [Larp Game] events in 1998 and 1999, which until this past weekend, had been the best of my LARP experiences. Three days in Massachusetts, snow and all, took my gaming experiences to a whole new level. Attention to detail was great. Costuming was great. The props were great. The NPC's were great. The PC's were great...Yeah, the weather made things a little tough, but I had more activity in one day of cold, wet, muddy, snowy game play than I did in entire weekends at other games. Thanks for presenting a LARPer who had considered retiring, with a game that has rejuvenated my interest in donning my armor.
Oh... my... god.
Sudenly, a snarl from behind scared us out of our skins, and I turned, expecting to face the Gnolls. The creatures I faced were totally unfamiliar to me - horrid in appearance. I looked for out guides but could not find them. Then it hit me - these WERE our guides! We fought them off, terrified all the while, then made our escape. Were heard them rizing up and roaring behind us, and we did not stop running until we were almost back in town! It was one of the most exciting times I've had in Freehold!
You attacked the thirteen most powerful magic users in the wurld with a frying pan and a cleaver? - A hero uses whatever means they have at their disposal.
Seeing Lenora brought me back to my childhood, when I remembered the fear of seeing Maleficent in Sleeping Beauty and Bavmorda in Willow...
Season Passes 2021
August 27th - October 17th - Fall Season Pass
March 18th - May 15th - Spring Season Pass
Fall 2021
August 27th - August 29th - Weekend Event
September 17th - September 19th - Weekend Event
October 15th - October 17th - Weekend Event
Spring 2022
March 18th - March 20th - Weekend Event
April 8th - April 10th - Weekend Event
May 13th - May 15th - Weekend Event
FREE Membership
Access to "Members Only" Message Boards
Access to "Members Only" Photo Galleries
Online Character Updating
Registration via Credit Card & PayPal
and Much More!