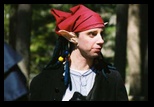 ...I just gotta tell you (as if you haven't already heard it) You've got a great thing goin here. Yer events are something I look forward to from the time the previous one ends. It's just an overall good time. You've got good people runnin it, an AMAZING cast, plot coordination beyond belief, and all bases covered for everything anyone could ever want to do...
A hugely commendable effort from the entire cast. Nothing-- not heat, ticks or injuries seemed to deter them from giving a stand-up roleplaying job.
... you never cease to amaze me
Everyone I know has agreed this was our best MJ yet, and we can't wait for May
The zombie Crypt was great, swing across a pool of acid to save both my friends and retreve the chest on the other side was the most fun I've had in a module yet... It was the best event I've been too yet. They just keep getting better and better.
Season Passes 2019
August 23rd - October 20th - Fall Season Pass
Fall 2019
August 23rd - August 25th - Weekend Event
September 20th - September 22nd - Weekend Event
October 18th - October 20th - Weekend Event
FREE Membership
Access to "Members Only" Message Boards
Access to "Members Only" Photo Galleries
Online Character Updating
Registration via Credit Card & PayPal
and Much More!