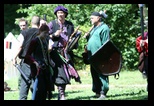 Everyone went through great efforts to enhance their costume, living quarters and common areas. I really liked the ambiance of the game as a result.
...I found many other things that helped me have such a great time, I owe that to the planning of the management and the dedication of the cast, as well as the great role-playing of the players.
I finally got to see the Yetis. Oh my goodness- it was absolutely awesome to see the huge creature lumbering through the snow as it crossed the path beyond the lowtown bridge. It oared into the woods, and we saw another one deeper in, along the stream. It was like a bigfoot sighting
Let me start by saying this past event was one of the finest games I've attended. Thank you all very much. I was encouraged to take my own role-playing ability to a new level..
This weekend was my first time at MJ, and I casted to get the hang of the system before I came in as a player. What I saw amazed me - real plot lines, varied NPC's and monsters, varied character interaction, and a very dedicated cast. My original plan had been to cast this weekend and play the next event, but now I'm wavering because I had so damn much fun!
Season Passes 2017
August 25th - November 5th - Fall Season Pass
Fall 2017
August 25th - August 27th - Weekend Event
September 15th - September 17th - Weekend Event
November 3rd - November 5th - Weekend Event
FREE Membership
Access to "Members Only" Message Boards
Access to "Members Only" Photo Galleries
Online Character Updating
Registration via Credit Card & PayPal
and Much More!