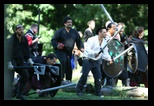 I had an amazing time and I believe it to be one of the most amazing things I ever took part in. Thank you for a great experience, I plan on many more to come.
I also want to take this time to thank every cast member that I have ever encountered or talked with even the ones I never see that have had a hand in my death, life, or other plot that has given me the best 3-4 years at MJ ever who ever has influences this character. With out all of you I would not have had as much fun or be the person I am today
...The fact that he was actually walking unnoticed with the party that was out to kill him was in retrospect extremely creepy in game, and very funny out of game.
The tavern was incredible, I could not believe how great it looked. I was really able to stay IG, and the tavern wenches were classic...
I felt that there was TONS of plot happening out there if you went to find it, and there were some of the best roleplaying experiences I have ever had! The biggest problem is there wasn't enough time to explore everything! I can't wait to explore more plot next event.
Spring 2018
March 16th - May 20th - Spring Season Pass
May 18th - May 20th - Weekend Event
Fall 2018
August 24th - August 26th - Weekend Event
October 12th - October 14th - Weekend Event
November 2nd - November 4th - Weekend Event
FREE Membership
Access to "Members Only" Message Boards
Access to "Members Only" Photo Galleries
Online Character Updating
Registration via Credit Card & PayPal
and Much More!