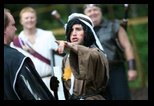 ...Let me conclude by saying that we all had a really great time at this MJ event. The plots were intricate and complex, there was a lot of action, and we all couldn't wait for the next thing to happen. MJ is what many other live action games should be and aren't. Congratulations on putting together such a professional organization in such a short amount of time. MJ is better after three events than many other games that have been around for years. Keep up the good work
You guys did an excellent job. Thanks for a wonderful time. I can hardly wait for the next event!!! :)
This was my first LARP experience, and I am deffinitly hooked. : ) I was amazed by the quality of acting...All the cast was awesome. Everyone did such a great job...Thanks for an incredible weekend! I can't wait for the next event!
BIG KUDOS FOR THE CAST AND CREATORS OF THE GNOLL CAVE MODULE! What an amazing adventure! That was the most fun I had all game. It was long and involved, required planning and tactics (and lots of gnoll treats) and gave a real sense of comradeship with my companions. The cave was very scary, with its low ceilings, narrow passageways and ominous howling sounds. I consider myself very lucky to have had the opportunity to participate in such an awesome adventure. I really liked the fact you had so much going on all the time. Whether it be wandering trolls and gnolls, a group of marauding brigands in the woods, or a goblin with a story to tell, there was always a bit of adventure to be had. KEEP UP THE EXCELLENT WORK!
Fantastic event, really a solid production, the events get better and better...I love the great interplay from the NPC's, and the fantastic players. Even if your not involved in a plotline there is always something to do all over the town. The depth of adventure at MJ is staggering.
Spring 2019
March 22nd - March 24th - Weekend Event - PLACEHOLDER NOT ACTUAL DATE
FREE Membership
Access to "Members Only" Message Boards
Access to "Members Only" Photo Galleries
Online Character Updating
Registration via Credit Card & PayPal
and Much More!