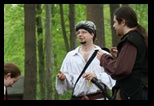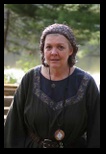 What a truly amazing event guys. This season has been the best ever, even with the weather. I would like to thank all the cast and their hard work. I'd like to also say to the cast thanks for sticking out the rough weather with us. This event it felt like a real town, all the face roles, extras, and people out in latex. With the step up in costumes and the numbers of cast I felt truly removed form reality and dropped into our little world. Thanks again guys…counting the days till the next event.
I was a new cast member and I came with my wife. As soon as we walked through the door we were greeted by friendly faces and excited cast members. We immediately felt at home. The first night was a challenge because not only were we new but we were also a bit scared. Coming to MJ was definately stepping out of our comfort zones.... We had a blast. We did everything from terrorizing pumpkins as zombies, jumping out of closets dressed as bats, to going on a religious pilgrimage to seek knowledge of each religion. It was fun, safe, exciting, and challenging.
I was busy from the moment I got to the camp until I left.
I do want to say that I was impressed with the management of the game and the cast... even though things were a mess, you guys kept everything moving (to various degrees of smoothness, yes, but it moved :) I was also *very* impressed and pleasantly surprised by the depth of everyone's devotion to the game and its workings... brownie points or no, problems or no, everyone I met (player AND cast) had a vested interest in making the game, and the weekend, as best it could. The MJ folk honestly care about their game and their fellow players, and I, as a newbie, am eternally grateful...
Experiences like this last event make me understand why MJ, unlike the other 7 or 8 LARPS in this area, doesn't have significant staffing problems. Everyone is made to feel as if they are contributing to something very special, not just collecting $50 from the players and going through the motions on a storyline going nowhere, or a plot which is spoon-fed to the players...I'm hooked. I will return. Even if I only swing for 1 with a 2-handed sword ;-)
FREE Membership
Access to "Members Only" Message Boards
Access to "Members Only" Photo Galleries
Online Character Updating
Registration via Credit Card & PayPal
and Much More!